Welcome
CUPE 3908 Unit 2 represents over 300 student academic workers. Most Unit 2 members are Graduate Teaching Assistants (GTAs), but many work as both graduate and undergraduate Student Markers, Academic Assistants, and Computer Lab Advisors. Unit 2 members have a particular relationship with Trent University, as the institution simultaneously acts as both their school and their employer.
Your Collective Agreement
As employees of Trent University, you have a number of particular rights outlined in the Ontario Employment Standards Act and the CUPE 3908 Unit 2 Collective Agreement.
If you want to know anything about your work as a Unit 2 member, the Collective Agreement is the place to look. This is a legal document that outlines all the intricacies of your work such as: Wages, Hours, Work Assignments, Grievance Procedures, Job Postings, Health & Safety, Discrimination & Harassment.
The Unit 2 Collective Agreement is effective September 1, 2021 to August 31, 2024. The updated Collective Agreement has not been completed. The previous Collective Agreement and the Memorandum of Settlement describing all of the changes to the current Collective Agreement can be downloaded below.
Your Rights, Benefits, and other important information…
As a Unit 2 member, you have many rights and benefits. We've collected some of the most important ones below, however for a full look at your rights and benefits please review your collective agreement.


CUPE 3908 Unit 2: Gender Affirmation Fund
---
Download the Gender Affirmation Fund Application and Expense Claim Form
---
What is the Gender Affirmation Fund?
The Gender Affirmation Fund is a fund of $5,000 that is available to support social, legal, medical, and other transition related costs that are not covered by OHIP or any other government program that the member is able to/or wishes to access. It is available on a first-come basis to support CUPE Unit 2 members and their families requesting financial assistance.
This fund understands that there are many barriers/reasons as to why an individual may not be able to access funding through OHIP, other government programs, or insurance. This may include unsupportive or nonexistent medical teams, religious choices, and the desire to choose a specific surgeon/medical procedure variation. This fund was created to eliminate barriers, not create more.
How do you define 'transgender'?
The fund understands the term transgender to mean an individual who has a gender or genders that do not align, entirely or in part, with the gender that they were assigned at birth. There are many identities that fall under the umbrella of transgender, including but not limited to: trans, trans woman, trans man, non-binary, genderqueer, agender, two-spirit, and gender-fluid.
Who is eligible to apply to the fund?
Individuals who are members of CUPE3908 Unit 2 at the time that they apply for assistance under the fund as well as their domestic partners and dependent children.
What types of expenses are covered by the fund?
The list included below outlines examples of the expenses that the fund covers. We recognize that we could not anticipate every possible relevant expense in advance, so if you want to claim a particular expense but do not see it on the list, we encourage you to apply.
How do I submit an application/expense for assistance under the fund?
To submit your application, please complete the form linked here (it is also linked at the top and bottom of this document). Expenses not eligible for coverage under another benefit plan may be submitted under this fund. You may then send completed applications to Trent's Pension and Benefits Advisor at any time. Requests will be authorized on a reimbursement basis provided they conform to stated limits elsewhere in this document.
Once delivered to the Human Resources office, the application and all subsequent and related correspondence shall be treated confidentially in the same manner as medical records. These items will not be included in the member's general Personnel File and shall not be available except on a need-to-know basis for the purpose of administering the fund.
The current contact information for Trent's Pension and Benefits Advisor is as follows:
Carley Brook, Pension and Benefits Advisor
(705) 748-1011, ext. 7569, cbrook@trentu.ca
Do you prioritize certain expenses over others?
Any costs incurred by a trans member in relation to their trans identity are important to that member. It is not our place to make subjective value judgments about the relative value of an expense, or to create a hierarchy of costs. The fact that a member believes an expense to be important and necessary is all that we need to know. In the event that the Fund does not have sufficient resources to meet all requests from it, the applicant will be encouraged to apply again in the following year. 
Are there limits as to how much I can receive?
Yes. There is an annual maximum limit of $5,000 of support for any CUPE 3908 Unit 2 member, and $2500 for domestic partners, and dependents. 
If I have difficulty paying my costs up-front, can I apply for funding prior to making an expensive purchase or doing surgery?
No funds will be provided in advance; however, funds can be earmarked for members to allow for reasonable planning of expenses. To earmark funds, please provide documentation outlining estimated costs, timeline, or exact date of service or purchase. 
To ensure that all members have equal opportunity to access funds, earmarked funds cannot be held indefinitely. Earmarked funds will be held for up to 3 months. Members who have a known date, for example a surgical date, that is further out than 3 months can simply contact us to confirm that the information is still accurate, and the funds can then continue to be held. If eligible, based on CUPE affiliation at the time of service or purchase, members can apply retroactively for funding with valid documentation. If funds are no longer needed, please reach out to us as soon as possible to allow us to open the funding up again to other members.
List of Expenses
The list of possible expenses below is intended to provide an expansive example of possible expenses. As stated above, we recognize that we could not anticipate every possible relevant expense in advance, so if you want to claim a particular expense but do not see it on the list, we encourage you to apply. 
Please note that the example expenses provided below are in no particular order:
Gender Affirming Surgeries

This fund will cover the remaining portion of any gender affirming surgery that the member has not secured funds for, not exceeding the annual maximum limit and/or accounting for remaining money in the fund.
This fund does not act as a judge and will also provide funds for surgeries outside the scope of what OHIP covers. For example, facial feminization surgery.

Travel Costs Associated with Gender Affirming Medical Procedures

This may include the cost of gas and/or transit, housing expenses, and any meal expenses as per Trent University's per diem for travel. Additionally should a medical procedure require a care person accompany the applicant, their expenses would also be eligible.

Permanent/Semi-Permanent Hair Removal
Gender Affirming Prosthetics/Garments

There are many different types of gender affirming prosthetics/agreements, below are common examples:

Breast Forms
Bras and breast form bras
Gaffs/tucking undergarments
Packers/STPs
Packing undergarments
Binders
Wigs/hair pieces
Gender affirming swimwear

Clothing

Transitioning can mean the replacement of an entire wardrobe. This fund recognizes that replacing a wardrobe, especially professional attire, can be costly.
Lifetime maximum limit of $500 for clothes for members, $250 for dependents and domestic partners.

Mental Healthcare

There may be costs associated with accessing support groups, therapists, and other aspects of mental healthcare that are not covered by other means.

Legal Documentation

Fees associated with the cost of updating/replacing legal documents. This can include name changes, passport/residency documentation, and any fees associated with updating academic documents.

Books

Books can be an important tool for self-discovery and self-exploration. This fund recognizes that purchasing biographies, short stories, self-help books, and other literature can play an important role in an individual's transition.
Lifetime maximum limit of $500 for books for members, $250 for dependents and domestic partners.
---
Download the Gender Affirmation Fund Application and Expense Claim Form
---
Professional Development
Although CUPE 3908 Unit 2 members are not required to engage in research and scholarship as part of their employment responsibilities under the Collective Agreement, eligible employees may submit professional and academic development applications for assistance from the fund to a maximum per employee of not more than $500 per year.
PD/EA application deadlines are November 15, March 15, and July 15.
Eligibility
All full-time Graduate Teaching Assistants (working appointments totalling 120 hrs for the year) may submit applications for PDEA reimbursement. Receipts for professional development must be from the year you apply.
The fund covers: Conferences and research (i.e., fees, travel, and accommodation); and Professional Skills Development (ie. Costs for conducting research, purchasing research materials, and professional development fees).
To find out if a particular expense is eligible for CUPE-2 PD funding, please email us.
Acknowledgement
Should you receive PDEA funding, please be sure to acknowledge the support of CUPE Local 3908 and Trent University in conference programs and publications. Refer to forms for application procedures.
What is UHIP and why do I need it?
UHIP is an insurance plan that provides medical coverage for international employees who are not eligible for the Ontario Health Insurance Plan (OHIP), or for those who are in the 3 month waiting period for OHIP.
If you're an international employee are you are required to enrol yourself and your immediate family in UHIP.
Where can I learn more about UHIP?
Visit https://www.trentu.ca/currentstudents/international/health-insurance to learn more about what coverage you have with UHIP, and how to submit your claims.
Is there a reimbursement?
Recognizing that CUPE members coming from abroad pay much more for UHIP, international members who demonstrate the need for financial assistance may apply for assistance with UHIP premium costs, up to a maximum per member of $200.00 per year.
Who's eligible?
All full-time Graduate Teaching Assistants (working appointments totalling 120 hrs for the year) without OHIP coverage may submit applications for reimbursement.
How do I apply for reimbursement?
To apply for UHIP reimbursement fill out the UHIP form located here.
You will need to provide a description of your financial situation that demonstrates need for the reimbursement. Remember to keep any documents you have that will support your application.
Members can submit applications three times per year:
Fall: November 15
Winter: March 15
Summer: July 15
The CUPE 3908 Comfort fund celebrates and recognizes important moments in the lives of our members through a $50 gift card from the local. These moments may include but are not limited to: a birth, a marriage, an illness, a passing of a loved one.
Please make all submissions no later than two months after the date of the event.
To submit a request, please click here and fill out our online form: https://goo.gl/forms/qPCaqzr1unH6N7MA3
For most of our members it is quite clear if they are a Unit 1 member or a Unit 2 member. All Unit 2 members are also students at Trent University. For our Unit 2 members who are working a Unit 1 position, it may not be so clear.
There are two situations where a Unit 2 member can hold a Unit 1 position:
A Student may be appointed to a Unit 1 position (as per Article 5.09 of the Unit 1 Collective Agreement).

A Student may apply for a Unit 1 position via the normal posting procedures outlined in the Unit 1 CA. This simple means that a member has been hired via competition, and not through an appointment.

In situation 2, where a student is the successful candidate through competition, for the duration of their contract, they will be subject to all rights, responsibilities, and privileges under the Unit 1 CA. Please note that a course instructor approval form is required.
This means that our Unit 2 Members who hold Unit 1 Course Instructor positions are eligible to earn Right of First Refusal (RFR) for their courses. To learn more about RFR, please visit the Unit 1 page, read the RFR infographic, or view the RFR slideshow. 
We encourage all Unit 2 members who are subject to the Unit 1 CA to familiarize themselves with the Unit 1 CA.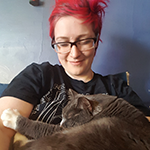 Ali Fraser
They/Them | Lead Steward Unit 2 | steward2@cupe3908.org
Sebastian Johnston-Lindsay
He/Him | Vice President Unit 2 | vp2@cupe3908.org